If you are seeking practice for the new Postal Service Exam (instituted in April 2019), you're in the right place. Please, read on. All of our test prep has been updated to provide information and practice for Postal Service Exams #474, 475, 476, and 477. Exam number 473 is no longer used.
Prior to April 2019, securing a job with the United States Postal Service (USPS) required passing one test (Postal Service Exam 473), no matter which job you were seeking. Now, the test you must take depends on the type of USPS job you want, and there are four different tests: #474, 475, 476, and 477.
You will not know with certainty which test you will need to take until you actually apply for a job, but you can probably make an educated guess based on the various jobs we've listed by each test in the table below. This is important for preparation purposes since, when you complete and submit your application, the email reply could come any time. If it is a positive response, you'll only have 72 hours to complete the test required.
How to find your test: In the table below, look for the description in the "For These Jobs" column that most closely matches the job for which you want to apply. Your test will probably be the one described in that row. Note that tests 475 and 476 list the same sections and are virtually the same test. However, the rating for your answers in the first three sections may differ between tests. Also, the questions may be worded in a slightly different way.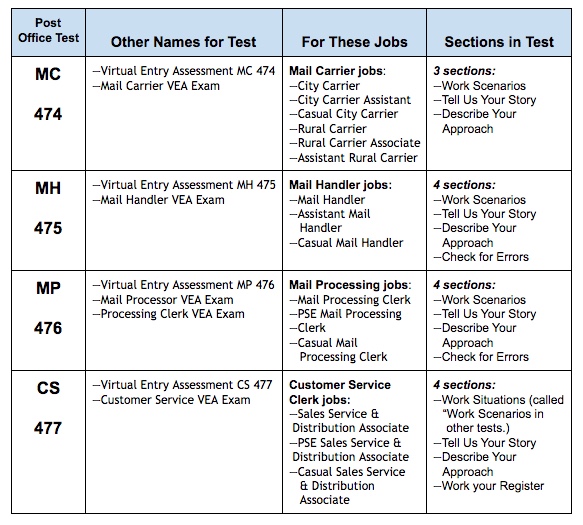 A current goal of the USPS is to improve the customer experience. This explains the shift of focus in skills tested on the new tests. There are only two sections for which some drill and practice would be helpful: Check for Errors (a section on two tests) and Work Your Register (on one test). The other three sections, which are included in all four tests (#247, 275, 276, and 277), are totally subjective in that you'll answer according to your unique personality, and there are no "right" or "wrong" answers. These three sections are named Work Scenarios, Tell Us Your Story, and Describe Your Approach.
There is very little typical skill assessment and much more evaluation of personal skills, such as dealing with people and problem-solving in various situations. It will be helpful to know the types of questions on these new tests and how they are structured, because the format is a little unusual. But specifically studying any particular vocabulary or fact list or practicing skills is probably not very effective.
We have practice questions and flashcards for the two objective skill sections and a helpful study guide for all sections you might see on the test.